Mayweather vs. McGregor Results: Punch Stats Prove Scorecards Were Right
Floyd Mayweather saw off the challenge of Conor McGregor in Las Vegas, Nevada, on Saturday night, to retire unbeaten with a career record of 50-0 after a 10th-round TKO at the T-Mobile Arena.
Judge Dave Moretti had the bout scored at 87-83 in Mayweather's favour when the referee intervened, despite giving the first three rounds to McGregor.
Mayweather was even further ahead according to judge Burt Clements who had the 40-year-old leading by 89-82 while judge Guido Cavalleri's card was similar, scoring the bout at 89-81.
BBC sports correspondent Richard Conway provided the judges' scores on the official scorecard for Saturday's fight:
View image on Twitter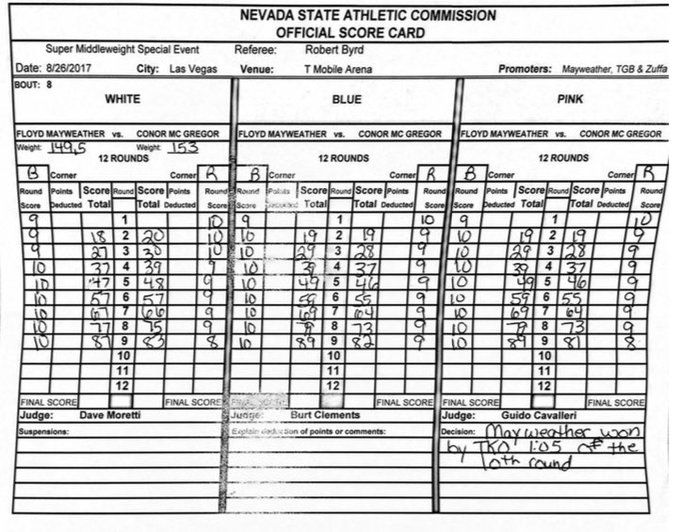 Richard Conway

✔@richard_conway

#MayweatherMcGregor scorecard
Perhaps more revealing are the punch stats, which were shared by ESPN's Arash Markazi:
View image on Twitter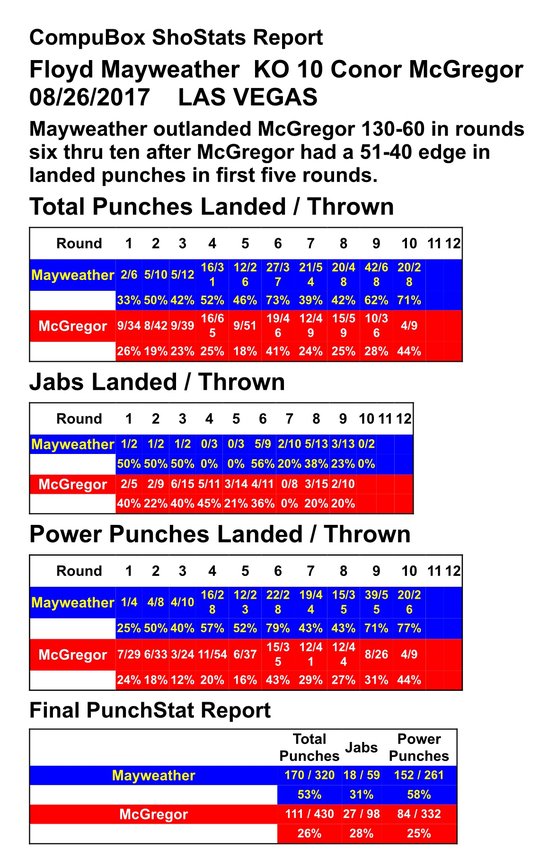 Arash Markazi

✔@ArashMarkazi

The final CompuBox stats for Mayweather-McGregor.
However, as the Irishman began to tire, and Mayweather became more aggressive, the balance began to turn in the older fighter's favour as he outlanded McGregor by 130-60 in rounds six to 10.
As noted by radio sports host Ben Maller, Mayweather had a far superior success rate of landed punches compared to McGregor:
Ben Maller

✔@benmaller

Total Punch Stats: #Mayweather 170 of 320 (53.1%) #McGregor111 of 430 (25.8%)
Mayweather's output was also far more damaging, as he continued to land power shots as the fight progressed, per Maller again:
Ben Maller

✔@benmaller

Floyd Mayweather connected on 58% of his power punches, Conor McGregor only 25%, Mayweather landed 68 more power punches
McGregor, despite his best efforts, failed to land the kind of shot that would rock Mayweather as he continued to move forward.
However, there is one statistic that McGregor will enjoy reading—he did manage to land more punches on Mayweather than Manny Pacquiao did in 2015, as noted by sports writer Darragh Murphy:
Darragh Murphy

✔@DarrMurphy

McGregor landed 30 more punches on Mayweather than Pacquiao did. 111-81. Just think about that for a second.
It's perhaps little surprise Mayweather dominated the punch stats, particularly against McGregor in his first professional boxing outing, but the numbers simply confirm that Saturday's scorecards were spot on.